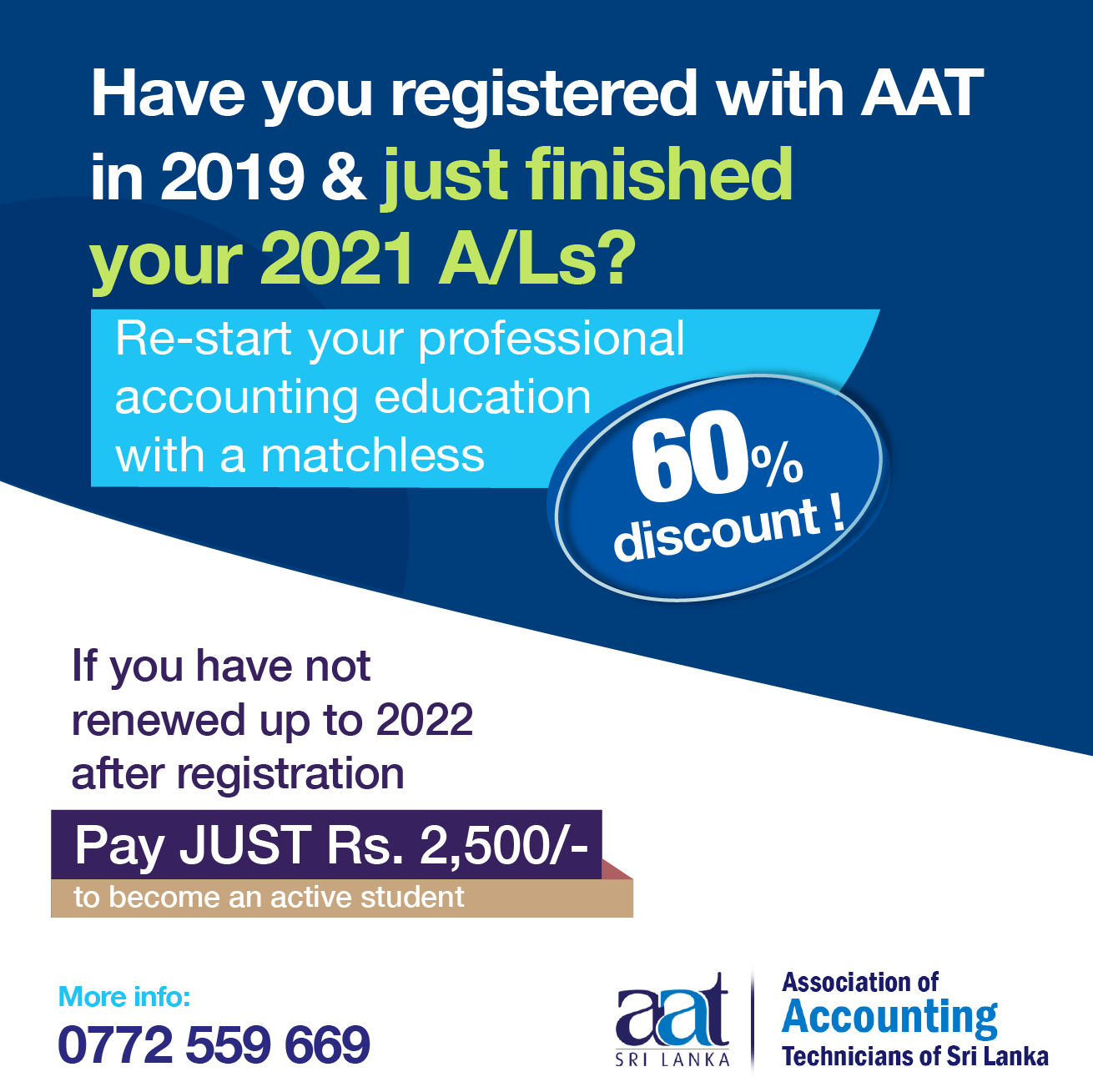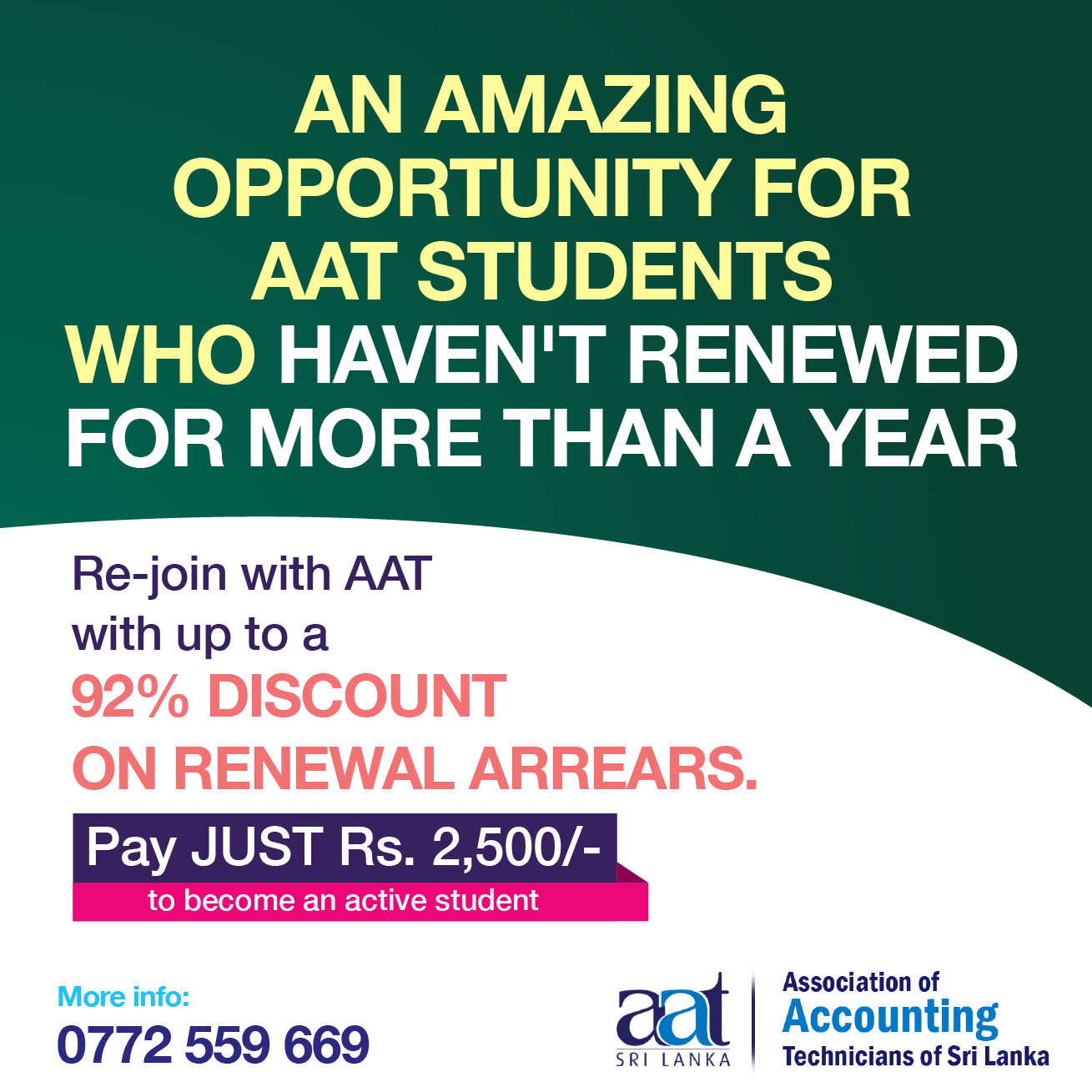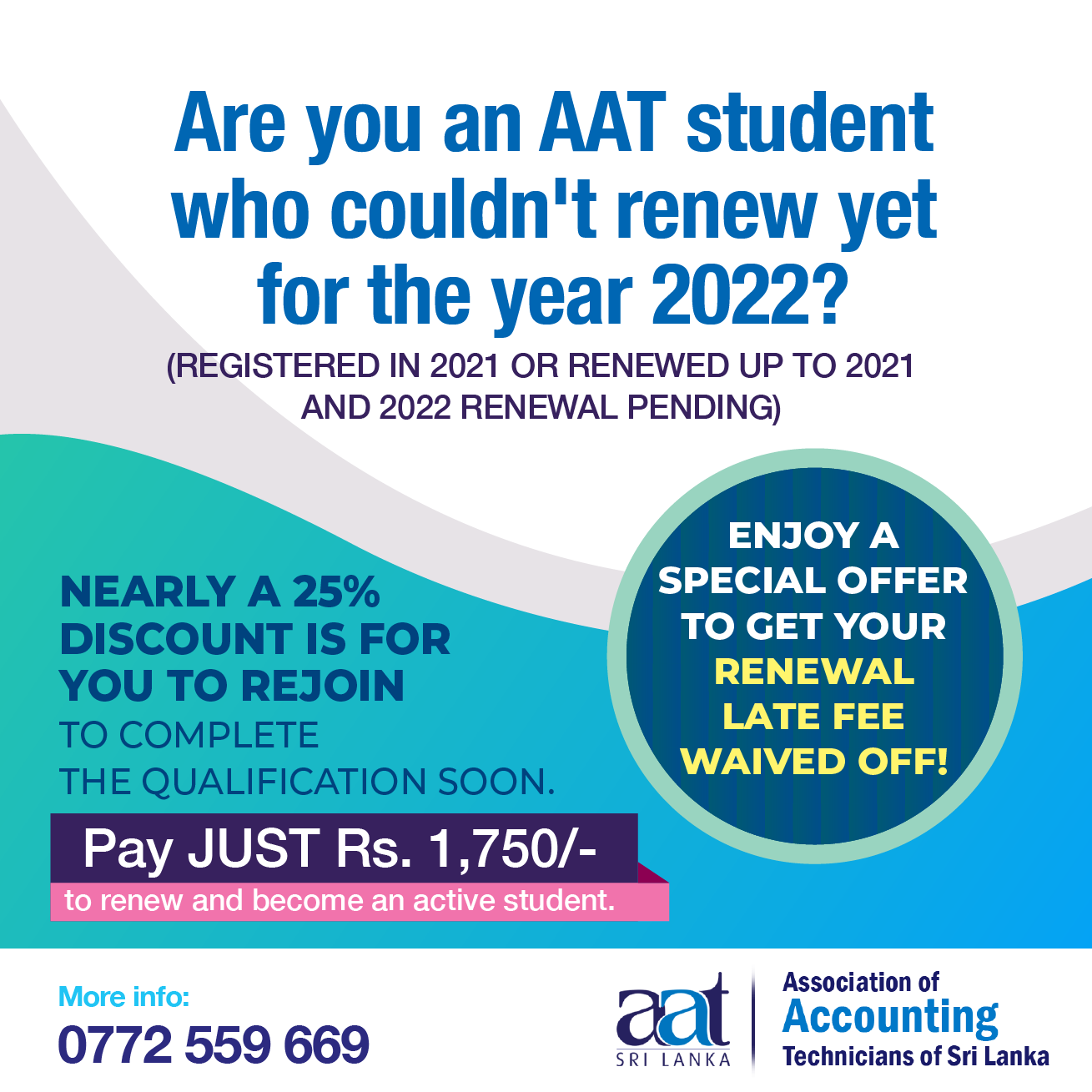 Enjoy up to 92% SAVING on renewal arrears depending on your last renewed year. Hurry and grab this opportunity!
Deadline of this discount -
31st May 2022
Complete your first professional qualification on or before January 2023 and fast-track your journey to become AN ACCOUNTANT SOON. Share this great news with your friends too.
𝗣𝗮𝘆𝗺𝗲𝗻𝘁 𝗼𝗽𝘁𝗶𝗼𝗻𝘀:
𝗢𝗽𝘁𝗶𝗼𝗻 𝗜
Any branch of National Savings Bank (NSB) or Hatton National Bank (HNB) [DO NOT pay through CDM)] [NSB / HNB]
𝗣𝗮𝘆𝗶𝗻𝗴 𝗩𝗼𝘂𝗰𝗵𝗲𝗿𝘀:
Use the general cash deposit slips which are available at the branches of the selected bank.
𝗔𝗰𝗰𝗼𝘂𝗻𝘁 𝗡𝘂𝗺𝗯𝗲𝗿𝘀:
NSB – 90_ _ _ 2301989
HNB – 039020327099
𝗣𝗮𝘆𝗺𝗲𝗻𝘁 𝗥𝗲𝗳𝗲𝗿𝗲𝗻𝗰𝗲 𝗡𝘂𝗺𝗯𝗲𝗿:
Mention "44" followed by your 7-digit student registration number (44XXXXXXX). If you write this inaccurately, your payment will be credited to someone else's account which cannot be corrected subsequently.
𝗢𝗽𝘁𝗶𝗼𝗻 𝗜𝗜 [𝗢𝗻𝗹𝗶𝗻𝗲]
Making the payment online via https://www.aatsl.lk/index.php/en/online-payment. Payment Ref. No. as described above should be mentioned correctly when making an online payment too. If the payment is correctly done, your renewal will be updated within 3 days of payment. You are NOT required to send the student ID to AAT.
𝗠𝗼𝗿𝗲 𝗶𝗻𝗳𝗼:
0772 559 669 / 0112 559 669
swarna@aatsl.lk
/
chamil@aatsl.lk